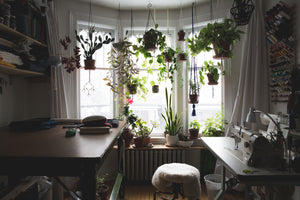 Are you an Artisan Maker?
Our aprons are great for soap makers, crafters, sewist, painters, and artist alike.
Shop Aprons
Exceeded all of my expectations
Rosalie exceeded all of my expectations from craftsmanship to customer service. I can't wait to order again!
Amazing apron for my Craft
This apron is made so well. It's extremely sturdy. I have a small nursery and my new apron allows me to work on taking care of my plants without getting dirty. It also makes me feel so professional. I absolutely love it.
Worthy to be sold in Neiman Marcus!
This shop is amazing! The owner worked with me to fulfill a custom order that I ordered ast minute. She sent high quality digital swatches, told me just how many in each size and print she could make, and created everything to perfection.
The order arrived as promised, and was pristinely wrapped in such quality and care and everything was labeled. She even included high quality coordinating freebies! I also appreciated the included care instructions. I would recommend this shop to anyone. The quality is amazing and worthy to be sold in Neiman Marcus!
What better way to have hand made quality products for babies than from a Owner who actually have little ones.
The quality, colors and patterns are so bright and warming at the same time. We all like to feel that our children are special well Logically Unique products has that covered.
Awesome as a keepsake, as well.
The owner Rosalie is just as special as her products. Thank you
Received my first order today and absolutely loved it! Everything was so carefully packed it just oozed natural mama.
Ordering
Contact us for your custom order
For order inquiries at this time please email us at contactus@logicallyunique.com
Hello! I am Rosalie Ena.
I am a unique creative genius and I utilize my multifaceted skills and talents in sewing and carpentry to create vibrantly unique handcrafted creations.
I love to dance, and sing while I create to bring the loving energy into my creations.